SMALL BUSINESS ACCOUNTING
Proudly Serving Cleveland, Akron, and Northeast Ohio
CHOOSE THE PROFESSIONALS TO BOOST YOUR BUSINESS.
A small business accountant keeps you organized and on track so you can focus on what matters most: your business. At Skyplex Management, we remove the legwork and the guesswork of business accounting to keep your business moving forward — and it all starts with a free 30-minute strategy call with one of our experts. Let's find the perfect solution for your business — call us today to get started.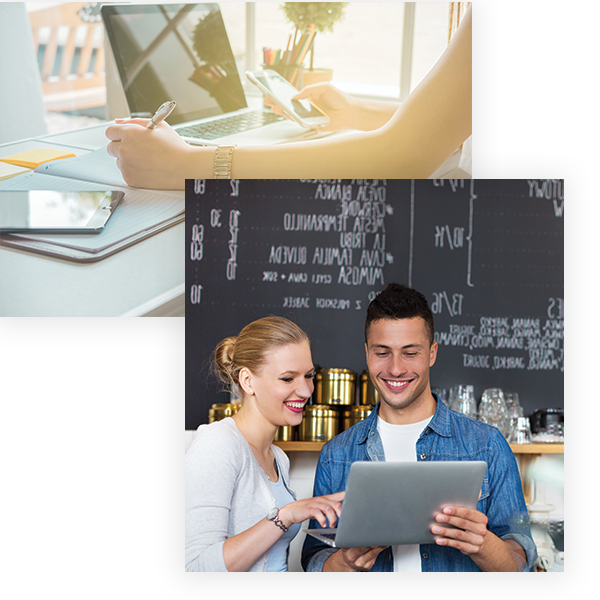 WHAT WE DO:
Account Reconciliation

Categorizing Daily Transactions

Monthly/Quarterly Financial Statements

Accounts Payable

Profit/Loss Analysis

Expense Tracking

Invoicing

Collections

Accounts Receivable

Payroll Processing

Tax Preparation

Bank Reconciliations

Budget and Forecasting Analysis

Sales Tax Filing and Payments

Virtual Bookkeeping

QuickBooks Setup and Training
Small Business Accounting Services
OUR ACCOUNTING SERVICES
As a business owner, you know that the right small business accountant in Cleveland is a critically important component to the success of your company. You spend every day handling the routine operations, as well as charting the future course of your company. Those duties require a great deal of time and focus, and you need someone to spot all the details, keep you in the black, and ensure you're profitable.
Utilizing the services of a small business accountant that can give you the personal attention, time, and dedication that your business deserves, while still being able to supply every crucial service you need, will help you on your path to success. Providing these kinds of accounting services for small businesses and large businesses alike is why we founded Skyplex Management, Cleveland's local, experienced small business accountants.
We are a full-service accounting and consulting firm for small and medium-sized businesses that is focused on helping you develop your company and achieve your goals. Skyplex Management in Cleveland provides the following accounting services:
Account Reconciliation
Categorizing Daily Transactions
Monthly/Quarterly Financial Statements
Accounts Payable
Profit/Loss Analysis
Expense Tracking
Invoicing
Collections
Accounts Receivable
Payroll Processing
Tax Preparation
Bank Reconciliations
Budget and Forecasting Analysis
Sales Tax Filing and Payments
Virtual Bookkeeping
QuickBooks Setup and Training
WHY CHOOSE SKYPLEX MANAGEMENT?
At Skyplex Management, we know that one of the biggest dangers an up-and-coming company can face is poor accounting and reporting. While some owners try to do it all themselves due to concerns about cost. While managing expenses is an important part of running your company well, overextending yourself or overseeing financial tasks that you are unprepared and untrained for can be a liability.
PROTECTION FOR YOUR BUSINESS
Making mistakes in your daily accounting, failing to understand your company's true financial standing, and missing important requirements when filing taxes are just a few of the ways that dedicated, hardworking business owners endanger their businesses by trying to manage financial tasks they are not well equipped for. Working with an experienced, professional small business accountant like Skyplex Management provides security and protection for your business while also ensuring that you know precisely where you stand financially every step of the way.
MAXIMIZE EFFICIENCY
As a business owner, you already manage a team of people, provide exceptional services and products for your clients, and constantly have to generate new ideas for remaining competitive in your market. When you add in handling your accounting, bookkeeping, reconciliations, payroll, collections, taxes, and all the other accounting tasks your business requires into your day, you run the risk of becoming less efficient. At Skyplex Management, we are dedicated to the success of our clients by providing them with the expert small business accounting services they need outsourced in order to give their company their total attention.
CONTROL COSTS THE RIGHT WAY
We offer small business accounting through a comprehensive suite of services at pricing designed to be reasonable and competitive, giving you the professional accounting services your business needs without hurting your bottom line. Best of all, using our small business accounting services can free up your time, help you grow your business, provide accurate and detailed financial information and help solve daily cash flow issues — all boxes that every business wants to check.
CONTACT SKYPLEX MANAGEMENT FOR ALL YOUR ACCOUNTING NEEDS
With more than eight years of experience, we can handle tax preparation, accounts payable and receivable, payroll processing and much more, freeing up your time and allowing you to focus on what matters most — running your business well. When we meet with you, our team will create a personalized strategy based on your immediate needs and future goals to help you keep growing, stay competitive, and take your company to the next level.
Improve your profitability and spend more time growing your business by partnering with Skyplex Management in Cleveland, Akron, and the surrounding areas. For more information or to get started, contact us online or by phone today.